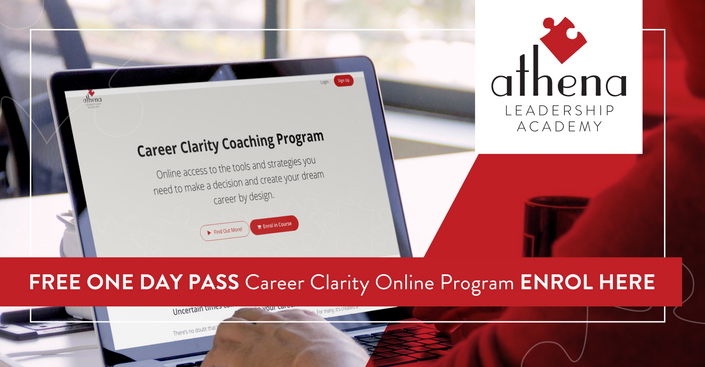 Career Clarity Coaching Program
Online access to the tools and strategies you need to make a decision and create your dream career by design.
Find Out More!
Enrol in Course
Drawing on my 15+ years of Executive Coaching experience, the Career Clarity program will help you understand and identify your unique strengths and values and see what's truly important to you in a role and in life.
I provide a series of activities and instructional videos that will guide you to better understand yourself and what motivates you.
Throughout the program you will discover why there were some roles in the past that you loved, and others' that felt less comfortable.
And finally, you'll start to design your next role so that it's completely aligned to your strengths and passions.
Program overview and inclusions
Time is of the essence when it comes to making a decision about your career, this is why the Career Clarity Online program is structured in bite sized pieces. We recommend you allow a good 30 minutes per module for video and activities. All reports and activities are included in the course, however, if you want to dig deeper there are also links to additional paid reports.

The breakdown of sessions are as follows;

Getting Started
In this session we look at how to get the most out of the program and get clear on what it is that you want to achieve.

Session One: Understanding Yourself
In this 3 part session, we look at your personality profile and your top 5 strengths and take a deeper look into what this means for you.

Session Two: What's Important To You
In this 2 part session, we look at the things you value most and map out what it is you want from your career

Session Three: Designing What's Next
In this 2 part session, we look at your career history and what it is you want from your job.

Session Four: Career By Design
Now that we have everything you need, in this module, it's time to design your next step and make a decision in your career.


Session Five: What Next?
In this last session, we look at what you need to do to maximise this program, stay accountable to ensure you live the dream and achieve your success.
Program Overview
Welcome to the Athena Leadership Academy Career Clarity Online Coaching Program.
Available in days
days after you enrol
Session 1: Understanding Self
Available in days
days after you enrol
Session 2:  What's important to you?
Available in days
days after you enrol

The Career Clarity online program is for you if...
You feel the need to step up but you feel afraid or unsure about the next right steps.
You need help to define what it is you want from your career
You want to feel confident in your decision on the next step in your career
You are committed to making a difference in your career and the world in which you play in
You would like to be part of a supportive community with like-minded professionals
What you can expect
After completing the Career Clarity Online Program, you can expect to:
Have your career design so you can;
Feel confident in the next step/s to take
Increase the possibility of your earning power
Stop feeling unsure of your future
Have an in depth understanding of what makes you happy
Take action and reach your own success
Course Options

So we can ensure you get the most from our online program, there are two options to select from in the registration area .
The first option is a lifetime subscription fee of $295. This includes access to all sessions and allows you to complete it at your own pace.

The second option is a one off fee of $995, which includes all of the above, plus you also have access to premium paid personality and strengths profile reports and best of all a 90-minute one-on-one coaching session with Linda. Once you register we will be in touch with access codes and arrange a time for your one-on-one coaching session.
If you want to feel inspired and motivated about your career or if you have a decision to make then partner with Athena Leadership Academy in making your next career move the one where you will achieve everything you want!
Frequently Asked Questions
When does the course start and finish?
The course starts from the moment you enrol and never ends! It is a completely self-paced online course - you decide when you start and when you finish.
How long do I have access to the program?
Depending on which level of access you select you can access this course as much as you like - across any and all devices you own.
Are there any additional costs?
As part of the online program, we take a look at your strengths. If you need help to identify them you can take the CliftonStrengths survey for $19.95 USD.
What if I am unhappy with the program?
We would never want you to be unhappy! If you are unsatisfied with your purchase, contact us in the first 30 days and we will give you a full refund.
Can I upgrade to the Career Clarity Plus Program if I select the Career Clarity option first?
Yes absolutely! If you complete the online program and would like additional support then we would love to hear from you.
How long does the program take?
We recommend you allow 30 minutes per each of the 12 modules.
Wouldn't it be great to be able to say
"My days are full of everything I love,
and nothing I don't"?

Now is the time to take responsibility and control of your own career and success! Start feeling re-energised, with great tools to support you in bringing your own dream career to fruition.


I look forward to seeing you online!
Here is what past students had to say...
"SURPRISE! I got the job AND a pay rise! And that is in no small part thanks to you. After completing the Career Clarity Plus program, I was a completely different person in the interviews. I was actually my authentic self! And I couldn't have done that without your guidance but just as importantly, your belief in me. It meant so much to know that someone as great as you believed in me, which gave me the confidence to know I am right for the job. Thank you, thank you, thank you!"
J. Hoare
"Thank you, Linda, It's been a pleasure working with you. Thanks for your guidance, support and valuable insights into a whole range of things. I felt challenged and very safe working with you."
Michelle
"Linda helped me gain deeper insights into my own strengths and value system to help me accelerate and be the best I can be whilst at the same time helped me to be more purposeful in my engagement with people by understanding them better too."
Marina G
"Hey Linda, I just wanted to let you know that I have been reviewing and reflecting on my response to the 'Career Clarity' activities. It has given me so much clarity. First time in my life I have looked at a role and gotten excited and understood why. Also greater specific clarity as to why I loved some of my roles. Thank you so so much. You are a STAR."
Pam Davis - Senior HR/OD Leader
About Linda Murray
Linda Murray is a successful businesswoman, coach, strategist and mentor, speaker and trainer.
Linda's talent is teaching executives to increase their commercial success while using their authenticity. She mixes her personal experience in business, her strong academic background and her observations of hundreds of businesses to show executives how to enjoy greater commercial outcomes and accelerated individual success. Linda has the unique ability to focus on both the big picture and the details; the numbers and the people; the sales and the administration; the left-brain and the right-brain.
Linda has a Masters of Business Coaching, a Bachelor of Arts (Psychology and Philosophy), is an Accredited Professional Coach and Certified NLP Practitioner and has a track record in assisting men and women in business to identify the commercially profitable big picture strategy and then create an achievable action plan to implement it.
Not ready to commit and looking for more ways to gain clarity in your career?
Take advantage of our free resources below!